LET'S SHARE  OUR PLAYGROUND
KERZNER Intl. TO OPEN 1,4B$ ATLANTIS 2 IN DUBAI
« Set on the crescent of the Palm Dubai, the new Royal Atlantis will be only a short distance from the original Atlantis hotel.« 
After 6 years of development, the Atlantis2 project will be completed in late 2020 and welcome guests into a new world of luxury and opulence…. by Juliana Hahn
« Revamped in November 2019, the Suite Carré d'Or of the Hotel Metropole Monte-Carlo is a symbol of luxury and charm, which offers a unique experience. »
Located on the top floor of the Hotel, the exceptional 150 sq. meter apartment composes a spacious living room, large bedroom, walk-in wardrobe and voluminous marble and gold bathroom."

AMAN'S SISTER BRAND "JANU" // WELNESS-ORIENTED HOTEL BRAND
« Oetker will launch with three hotels in 2022, in Montenegro, Al Ula in Saudi Arabia and Tokyo… »
Meaning "soul" in Sanskrit, Janu will focus on providing guests with "connectedness" rather than a "refined respite", in order to "balance to the head and heart and rekindle the soul."
While short on concrete details, Aman said Janu hotels will be "where genuine human interaction, playful expression and social wellness" happen, and aim to positively impact guests in the long term.
TAKE A LOOK INSIDE CNBC'S NEWEST LUXURY HOTELS IN CHINA VISIT
« The Chinese consumers' expensive taste is driving growth of the luxury market and fueling a boom in luxury five-star hotels in cities across China. »

…
Chinese consumers are expected to account for about two-thirds of the luxury market's growth in the coming years, according to a McKinsey report and luxury hotels are hoping to reap the benefits, with the region's major cities all growing their stock of five-star rooms… By Uptin Saiidi
« With its gold domed ceilings, mirror mosaics and hand carved marble privacy screens, the Kohinoor Suite is a rarity« 
This legacy inspired P. R. S. Oberoi, chairman of The Oberoi Group, to build Udaivilas (pronounced Oo-dye-VIL-las). As he succinctly decreed to his design group: « We are building a palace. »
CORINTHIA HOTELS TO OPEN LUXURY MASTERPIECE IN ROME
« Our objective here is to create the best luxury hotel in Rome. »
Simon Naudi, CEO of Corinthia, said: "We are very pleased to have entered into these arrangements as developers and operators, adding yet another flag to our portfolio in one of the most visited cities worldwide. We are also especially proud of having established the foundations for a new partnership with the Reuben Brothers."

OETKER COLLECTION - NEW CEO
« Oetker Collection announces today that its longstanding CEO, Mr Frank Marrenbach, has decided to leave the company… »
On May 1st 2020, Mr. Marrenbach will pass his responsibility as CEO of Oetker Collection to Dr. Timo Gruenert, who has served as the company's CFO and CoManaging Director since 2009. Earlier this year Mr. Marrenbach resigned as General Manager of Brenners Park-Hotel & Spa in Baden-Baden and was succeeded in this role by Henning Matthiesen.
New Luxury Hotels Market study from ARC - Forecast 2025
« According to research analysts Arcognizance.com, it is set to be worth $171 billion in 2019, a figure forecast to rise to $222 billion by 2024.

…
Luxury hospitality continues to be one of the biggest, most lucrative and fastest-growing of all hospitality sectors.
Whether it is unforgettable, personalized service, fine food and wine or a relaxing spa, luxury has become a key component of the hospitality industry. All the major operators have either acquired luxury brands or expanded those already in their portfolios, with the ambition to shape the future of the segment.
Cheval Blanc - LVMH to open 3 new "French Art de Vivre" masterpieces.
Paris – La Samaritaine / London – Mayfair District / Los-Angeles – Rodeo Drive
The LVMH – Hotel management team looks forward to welcome Cheval Blanc Paris, planed to open in a few weeks. A new masterpiece of Excellence and perfect luxury, « the most luxury and beautiful urban hotel worldwide » LVMH said.
Meantimes, the construction of the future Cheval Blanc London has started, this sublime hotel  whose technical project has been entrusted to Foster & Partners will open in the heart of the famous Mayfair district. Attention, Cheval Blanc announces innovation in these next openings, including a cosmetics cooler in every room.

NEW ISSUE - "CONCIERGES MAGAZINE"
«  The new edition launched during an event at the Neuhaus Chocolatiers headquarters and workshops in Brussels
As official magazine of Les Clefs d'Or Belgium, our agency releases this very elegant and luxury publication we produce and make since 7 years to highlight Excellence in the Belgian Hospitality represented by top concierges and luxury brands partners. 
The Oberoi Marrakech, perfect place to rest...
Prepare yourself to embrace the two sides of Marrakech, Mystic and Vibrant, perfectly…
it is clear, the Oberoi Marrakech is splendid, a place really apart, magic vibrations that you feel when everything seems perfect around you .. Here you are in the right place, at the right time …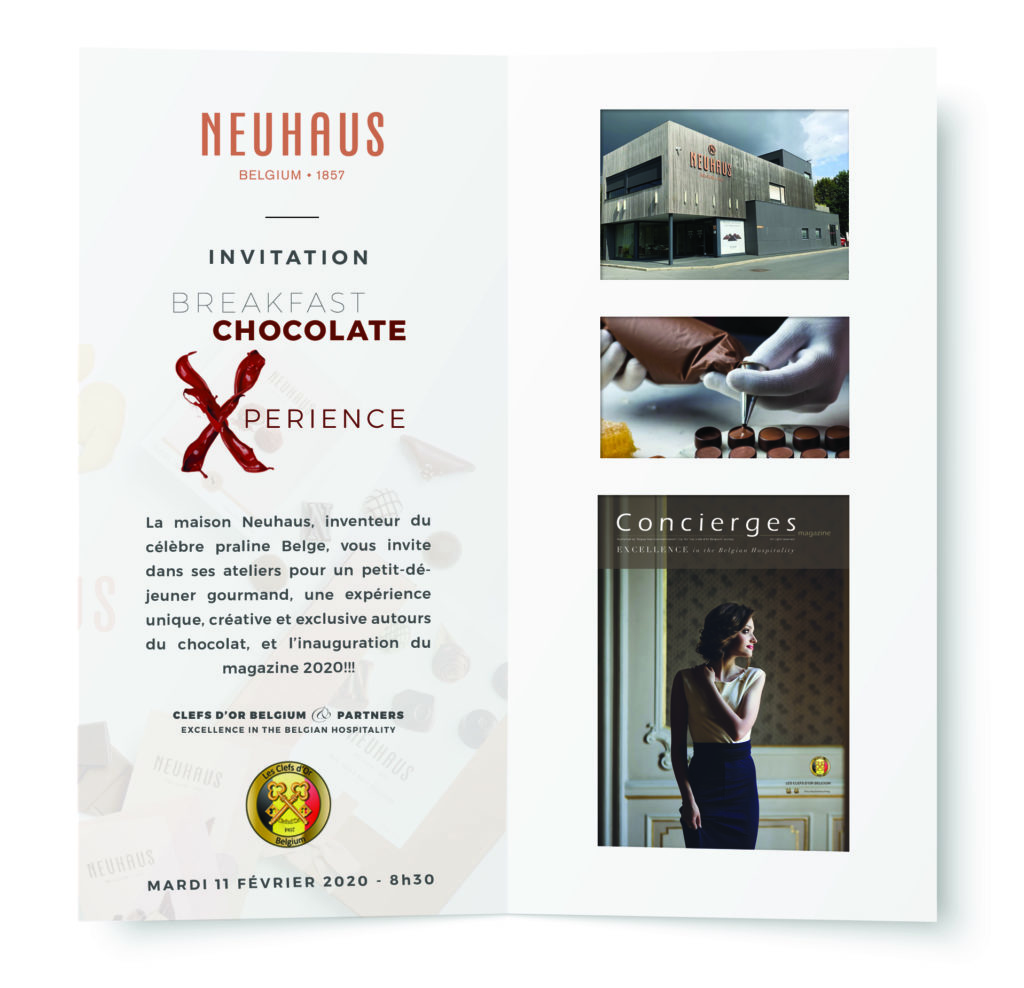 NEUHAUS & LES CLEFS D'OR BELGIUM EXPERIENCE
Everyone loves chocolate !!…
On February 11, the house of Neuhaus Chocolatiers will host the next Clefs d'Or Belgium & partners meeting, in its manufacturing workshops in Vlezenbeek for a creative breakfast and an immersion in the magical world of chocolate!
«  Magnifique & extraordinary unexpected skincare experiences…
The Celcius team wishes you magnifique & extraordinary unexpected skincare experiences in this coming (and amazing!!) year 2020!!! Be Happy and don't forget to think outside the box!.
« The FAENA SUITE, at The Faena Miami Beach, by Baz Luhrmann »
The hotel's namesake suite is a masterpiece of indoor/outdoor Miami Beach living. This impressive four-bedroom dwelling celebrates the golden age of Miami glamour and is complete with four full bathrooms and two half-bathrooms, stunning oceanfront views with furnished balconies, a full kitchen and elegant living room. Guests of the Faena Suite enjoy signature Faena Butler service.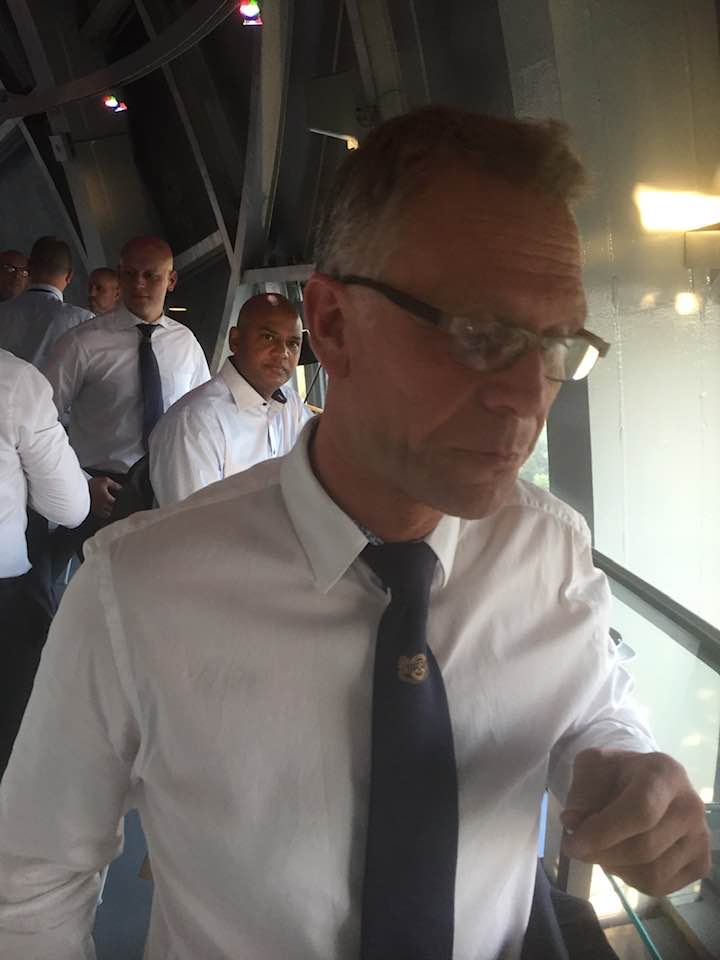 Today we are sad, we have lost a friend, a member of the Clefs d'Or Belgium…
Our agency has the honor of working for Clefs d'Or Belgium for over 7 years.
Today we are sad, we have lost a friend, a member of the Clefs d'Or, Michel Benoit, head concierge at the Sheraton Brussels Airport Hotel.
We wish to send our sincere condolences to his family, loved ones and to all Les Clefs d'Or, family to which he belonged.
Merry Christmas and enjoy your holidays with your family…
Another amazing year is coming, let's share our passion and smiles, let's love, enjoy and be curious and most of all, think outside the box!
THE PENINSULA CLASSICS 2019
«  Best of the best award announces eight finalists.
Hong Kong (12 December 2019) – The Peninsula today announced the eight nominees for its prestigious The Peninsula Classics 2019 Best of the Best Award, an accolade presented to the world's most exceptional classic car. The selected vehicles were built by automakers from five different countries over a span of nearly 40 years, 1919 to 1958.
HAPPY FEW WISHES YOU AN HAPPY NEW YEAR!!
…and, most of all, HAPPINESS for this (will be amazing!!) coming new year 2020!!! Be Happy, be Happy Few!
SIX SENSES, LONDON CALLING
« A few hops from Hyde Park, Six Senses will open in Bayswater… « 
Six Senses London will open with 110 guest rooms and suites, spa, unique wellness club experience, and 14 branded residences offering access to the hotel's facilities. Owners will be able to tap into all the privileges that come with a Six Senses home, including bespoke interior design, concierge service, dining, housekeeping and wellness programming.
30 NEW LUXURY PROPERTIES IN 2020
« Marriott Intl continues to create enriching experiences… « 
Marriott International, Inc. today announced it is projecting to open more than 30 luxury properties in 2020 as the company focuses on creating the future of high-end travel through its portfolio of distinct luxury brands.
.
2019 ILTM EDITION IN CANNES JUST CLOSED ITS DOOR
« ILTM is the only truly global event for the luxury travel industry.
ILTM introduces global travel buyers to an unrivaled collection of international travel experiences. They are the relationship brokers that provide a platform for hotels and destinations to do business and build relationships.
17 NEW UPSCALE LUXURY PROPERTIES IN PARIS
The French capital gears up for a busy few years, according to figures from the TOPHOTELPROJECTS database. We check out the top brands and projects that are destined for Paris, as well as running through some of the most important numbers for the city's hospitality industry.
Like the iconic designer who decorated her suite herself in her day and whose vision of French chic has spanned decades and cultures, this Prestige Suite is for aesthetes and lovers of an elegant, sober and discreet contemporary décor.
DO NOT WAIT YOUR CLIENT TO ASK YOU!
« I will come back to you if needed », « We do not have the request », …
To the ultra-luxury hospitality general managers community : Innovation is your guest loyalty Graal… Seek it, think about it at anytime, be creative, be brave enough to be the first, the only one (or one of the first…).
AND 3!! YAPI&YAPI DEVELOPS AND OWN A 3RD MANDARIN ORIENTAL
Mandarin Oriental announces new hotel & residences in Istanbul (2022)
By Vanina Sommers.
The new development comprises three standalone towers and is located in the exclusive Etiler residential area, close to the city's central business district.  One of the towers will house Mandarin Oriental Etiler, Istanbul with 158 guestrooms and suites and 16 serviced apartments.
« THE JEWEL SUITE…
by Martin Katz »
Designed in collaboration with jewelry designer Martin Katz, our Art Deco-inspired Jewel Suite is an extravagant triplex featuring  one-of-a-kind details. A  two-story crystal chandelier sets the tone, as do a grand piano and mirrored dining room seating for ten.
« IS YOUR GUEST UNIQUE ENOUGH… »
From the first steps in her (your) hotel, she is the Queen, starting a dance she wrote with her own exigences, her vision of luxury, her own notion of what should be a perfect guest service and above everything, every little things that justify the price of her stay.
« MEET THE LEGEND… »
The story wrote its early chapters in 1934 in Shimla where Mr. M.S. Oberoi pioneered the idea of luxury hospitality in India by opening his first hotel. The lessons self-taught, the inevitable mistakes made, the wisdom gained, the prestigious awards won. All have formed the compass for successive generations of Oberois.
« SUITE PENINSULA… »
Truly palatial, The 4,111 sq ft (377 sq m) Peninsula Suite is unrivalled in its contemporary opulence. Situated on top of the Peninsula Tower, the Suite has the most breathtaking views of Victoria Harbour from the double-height living room with floor-to-ceiling windows and the exclusive landscaped terrace.