CELCIUS – COSMETICS COOLER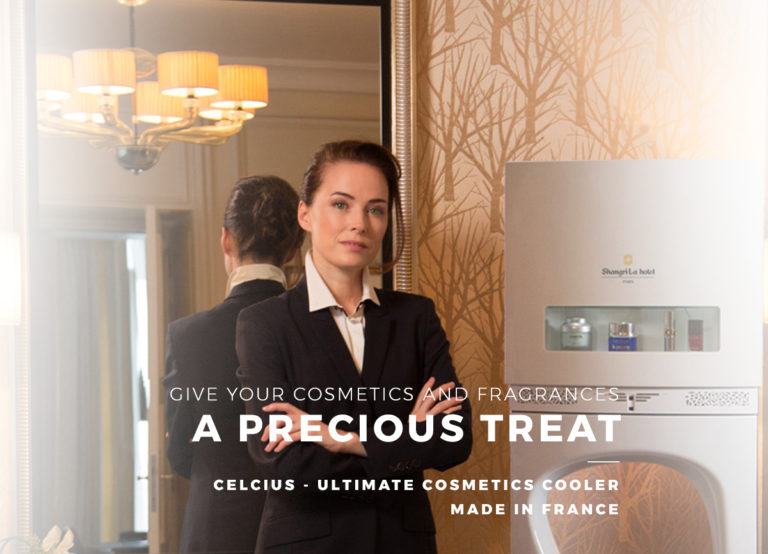 EXCLUSIVE DEVELOPMENT AGENCY OF THE CELCIUS – LUXURY COSMETICS & FRAGRANCES COOLER WORLDWIDE – LAUNCH  JUNE – 2019
Introducing your Guests to a refinement they haven't encountered before…
Give your Guests cosmetics and fragrances a precious treat and raise them well-being or beauty care routine to couture level ! Developed by luxury hospitality professionals, the CELCIUS is an exceptional Cosmetics and Fragrances Cooler, made solely for the storage, protection, perfect preservation in fresh atmosphere (10°C) and perfect use of luxury hotels Guest's cosmetics and fragrances. 
True luxury item, it brings not only an ideal solution to keep luxury hotel guests cosmetics products, and fragrances, at the perfect temperature of 10°C, it also offers them the possibility to enhance their luxury cosmetics, a brand new dimension to the habits of well-being of luxury hospitality guests, men and women in their bathrooms or bedrooms.

From the beginning of the development operation, several exceptional luxury hospitality properties confirmed implementation of the Celcius experience into their premium suites and SPAs. Mandarin Oriental, Shangri-La, The Peninsula..  at the start of October, we got the confirmation from LVMH Hotel Management that this new experience will be offer in every rooms of their incoming properties openings.
Please contact Christian Locqueneux, our CEO to book a call about the Celcius.
More information about the Celcius – Cosmetics & Fragrances Cooler?
Questions about the specific customization?
Join our technical service?
Call us on +32 2 808 24 62 or fill out the form below please.
Keep in touch!